Shipwreck and Non-Shipwreck Silver and Gold Ingots
Bullion ingots from shipwrecks do not exist in great quantities—typically any given shipwreck will yield ALL known specimens of that particular style of ingot, and with the exception of the hundreds of monstrous (80-lb.) loaf-shaped bricks of silver from the Atocha, I have never heard of more than about 200 similar ingots found at once. Compare that to coin rarities, and you will quickly realize that ingots are much rarer than contemporaneous coins, and of course they are almost always more impressive.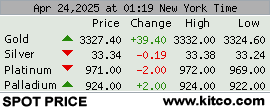 Natural Gold nuggets

Image Preview

(Click image to enlarge)

Description

Item #
Price
Natural gold nugget from Australia, 4.75 grams. Irregular shape with small, curved protrusion, 9/16" overall.


c051704192011

$295
Shipwreck and Hoard Ingots

Image Preview

(Click image to enlarge)

Description

Item #
Price
PCGS slabs each containing 1.5 grams of natural gold flakes and dust from the S.S. Central America (1857). This wreck was famous for its yield of gold coins and large gold bars, but just as interesting were the massive amounts of dust and flakes and small nuggets, which not only were "mined twice" (because the modern salvagers had to sluice the gold from the sand just like the original miners did) but also represent the miners' personal fortunes as they were coming back to the East. The items on offer here present very marketable groupings of pre-packaged dust and flakes with official "gold tags" from PCGS.

c111504191008-9

SOLD
Silver Plata Corriente

Image Preview

(Click image to enlarge)

Description

Item #
Price
Silver "plata corriente" cut piece of a small, round ingot with partial circular tax stamp of Charles I of Spain, 20.21 grams. Roughly 1" x 3/4" x 1/4". Triangular edge-piece with two broken sides, the tax stamp weak with just the S visible on top, other side encrusted with tan sediment.

c061604191010

SOLD
Daniel Frank Sedwick, LLC
P.O. BOX 1964 | Winter Park, Florida 32790
Phone: 407.975.3325 | Fax: 407.975.3327
We welcome your order, want lists, comments, material for sale or consignment and suggestions.